Slip and fall accidents are some of the most common kinds of at-work accidents. Some studies say that these injuries account for up to 25% of all workplace accidents. These accidents can be some of the most devastating, particularly when they cause head trauma, or otherwise make it impossible to work. Here at the ODG Law Group, we have a proven track record of helping folks who have slipped fallen on the job. Whether you've suffered any kind of injury at work, our worker's comp attorney in Los Angeles team can help you get the workers compensation that you deserve.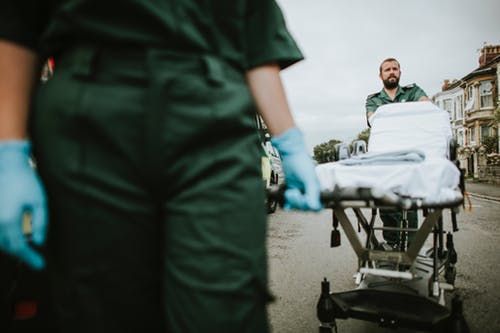 Slip and Fall Injuries at Work
When most people hear "slip and fall" injuries, they tend to think that it's something that only happens in an industrial or warehouse setting. While those are places where these injuries might be more common, they're far from the only places that they occur. Indeed, a slip and fall accident can occur in basically any kind of workplace. Even the most plush, technologically advanced office can have a slip and fall accident.
The reasons for these accidents can differ from office to office. For example, in a modern office, many slip and fall accidents can be caused by cords, cables, wires and more that are on the floor and just out of sight. Many different kinds of workplaces lack proper upkeep. So, the lighting may be inadequate, the stairs could be faulty, the flooring uneven – the reasons that someone might slip and fall in an office are essentially endless. It's important to note that when you suffer an injury at work, you deserve to be compensated for it.
Slip and Fall = Not Your Fault
Workers compensation isn't like personal injury law. In California, you deserve workers compensation if you're injured in the course of your job. That's what ODG Law Group is here for as a worker's comp attorney in Los Angeles. That means that if you're hurt while doing your job, then you deserve workers compensation. The injury can even be "your fault" and you can still get workers compensation, provided that you were doing your job at the time. For example, if you were in a car accident, you could receive workers compensation for it, provided that you were driving the car for your job. If you have any questions about whether or not your injuries qualify for workers compensation, give us a call. We're always glad to help prospective clients figure out the best path forward.
We understand that you work hard at your job, and the last thing you want to show is a sign of weakness. No one wants to have to stop work and report that they've been injured. You want to keep doing your job to support yourself, your family, and to show your supervisors that you can do the job right. However, once you're hurt on the job, you have a responsibility to report your injury to your supervisors. That's critically important, but it can help you to get the compensation you deserve. It can get the ball rolling on your worker's compensation.
Of course, it's also important to file your worker's compensation claim. That's where we can come in. We can help you to file the claim in such a way to maximize your possibility of success. To be clear: simply telling your supervisors about your injury is not enough, in and of itself. You also have to file the claim as well. Filing the claim is a good thing because it really does begin the process of getting workers compensation to pay for any medical bills or rehabilitation that you may need. Here at the ODG Law Group, we can draw upon our experience, too. We know that workers compensation can be confusing, so we can help you through it every step of the way.
Different Kinds of Workers Compensation
Even the most informed worker, one who knows all of their rights, might not be totally up on what workers comp disability there might be available for them. Companies often don't do enough to let their workers know what their rights are as well as what they are entitled to. We see our job as not only being counselors but also to provide knowledge as well. We've found that the more knowledge a person has about their situation, the better able they are to make the right decision for their needs.
There are four major types of workers comp disability categories. Almost all workers comp cases fall into one of these four types. When you meet with us at the ODG Law Group, we'll go over your case with you in great detail. Then, we'll tell you what we think your case is worth. Between that and your medical reports, we'll figure out what kind of workers compensation that you can be entitled to, and then go from there.
One form of workers compensation, perhaps the most common, is called "Temporary Partial Disability." This means that you can't do some of your typical job duties, but in time you'll be able to go back to them. We can help you to get compensation to pay for that drop in pay, or to even find alternate work that you can do at your job to make up for this.
Another form of workers compensation you might be familiar with is "Temporary Total Disability." In this form, you can't do any work for a period of time. You'll need time to recover, to recuperate, before you can return to your job. Perhaps you have to stay at home, or you need to stay in a medical facility. Fortunately, you will return to full strength and be able to do your job eventually.
Unfortunately, sometimes people aren't able to return to work, period. That may mean that they have suffered injuries which are so severe that they aren't able to return to their employer. Some have suffered injuries so severe that they can't work for another employer, either. This form of workers compensation is called "Permanent Total Disability." This can be one of the most difficult cases, but the stakes involved are very high. That's why it's so important to have a worker's compensation lawyer who has been doing this for a long time.
"Permanent Partial Disability" is a form of workers compensation where your ability to do your job will always be impaired, albeit partially. With this type of compensation, we may be able to get you training on another job, or something similar. As you can see, there's quite a difference between each of the different forms. Our professionals can help you to get the compensation that you deserve.
Workers Comp Attorney in Los Angeles for You
One of the hardest things for any worker is when their worker's compensation claim is denied. It can seem like the end as if there's no recourse after this. Of course, the opposite is true. Just because your claim was denied once doesn't mean that you're forever shut out from workers compensation. Indeed, over the years, we've helped people to get the compensation they deserve many times even after they've been rejected. Some places simply reject the first worker's compensation claim out of habit. You can still get workers compensation even if you've already been rejected.
Every worker's compensation claim is different. Yours is different from someone else's, even someone else who's had a similar injury at your company. With our years of experience, we can give your claim the attention and focus that it deserves. When you contact us for a free consultation, we'll sit down with you and go over exactly how we can help your claim. From there, as the best worker's comp attorney in Los Angeles, we can figure out the best path forward. To start the workers comp process, just give us a call at (818) 975-3080.