Falls are the leading cause of workplace injuries. Some injuries result from falling from a very high height. A fall from a ladder, roof or a building that is under construction can lead to many serious injuries including broken bones, head injuries, and even death.
Slip-and-fall injuries are less likely to be fatal, but they can still result in serious injuries. Slipping or tripping is a hazard in almost any occupation that doesn't involve sitting at a desk. Even office jobs can lead to slip and fall injuries in the kitchen or around office equipment.
When workers fall at a work site or while performing tasks that are part of their employment, they are entitled to slip and fall workers' compensation benefits. Even if an employer blames the accident on an employee's clumsiness, the employee is entitled to workers' compensation benefits without regard to fault.
Employees who are injured in a work-related slip-and-fall accident deserve fair compensation. With the help of a Los Angeles workers' compensation lawyer at ODG Law Group, they can be sure that their rights will be protected.
Employee Injuries While Serving Tourists and Visitors
Slip-and-fall injuries, tripping injuries, and injuries after falling from a height occur across a wide range of California employment. Los Angeles, for example, is well known as a tourism destination. While tourists often visit Disneyland and other theme parks in neighboring counties, employees in Los Angeles County keep visitors entertained while at Universal Studios Hollywood, Pacific Park, and LEGOLAND California.
The movie industry in Hollywood can be dangerous for all employees, not just stunt doubles. Cables present tripping hazards and slippery surfaces are difficult to avoid. Even employees who are not in the movie business face the risk of falling as they maintain popular Hollywood tourist destinations, including the Chinese Theater and the Walk of Fame on Hollywood Boulevard.
Serving customers at the many shopping destinations in Los Angeles can result in falls when customers track rain water in from outside or spill their drinks. Whether employees work at the Beverly Center, the eclectic stores on Sunset Strip, the chic shops at the Grove, the high-end stores that line Rodeo Drive, or the bars and restaurants in LA Live, store clerks and restaurant employees are at risk of being injured in falls.
Assembling displays and exhibits can also lead to falls. The Getty Center, Griffith Observatory, the Los Angeles County Museum of Art, the Broad, and the California Science Center are all safe places to visit, but any workplace that requires employees to climb ladders or move across floors covered with ropes and cables may present a hazardous work environment.
In addition, an employee of a whale watching tour might slip and fall on a wet deck. Boat tours to Balboa Island, excursions from Long Beach, and even the permanently docked Queen Mary can be a source of slip-and-fall accidents for Los Angeles employees.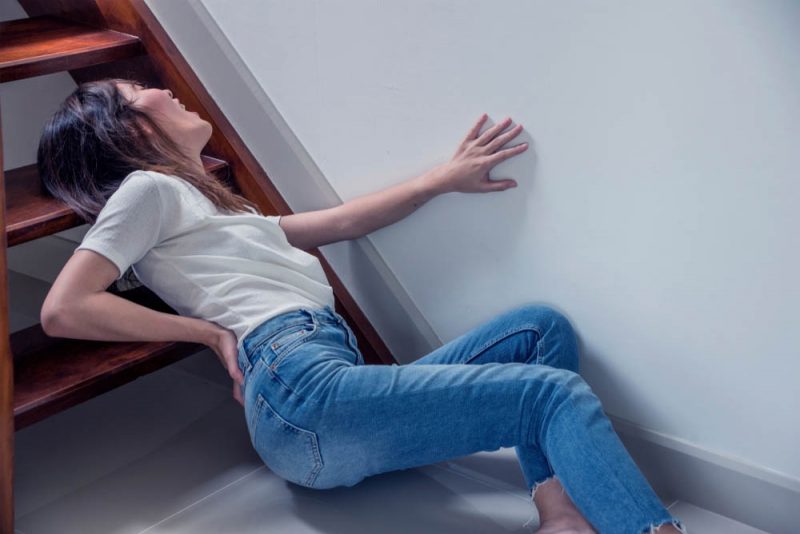 Job-Related Slip and Fall Accidents
Employees are entitled to workers' compensation benefits when they are injured in a job-related slip-and-fall accident. The rare exceptions to that rule generally relate to employees who hurt themselves while engaging in "horseplay" or while fighting with another employee. An employee who slips and falls while carrying out a job duty will be entitled to compensation even if the employee was at fault due to the employee's own carelessness.
Common examples of slip-and-fall injuries that are considered job related include:
Slipping on spilled liquids
Slipping on a greasy floor in a restaurant kitchen
Tripping over power cords, ropes, cables, or other obstacles
Falling because of a broken stair tread
Tripping after catching a foot in frayed carpeting
Falling after stepping in a hole
Tripping while walking backwards while helping another employee carry an object
Tripping over another employee's foot
Many falls occur because an employer has failed to obey safety standards established by OSHA or Cal/OSHA. Even if the employer is not at fault, however, the employee will ordinarily be entitled to recover workers' compensation for a slip-and-fall injury that is related to the employee's job.
Slip-and-Fall Workers' Compensation Injuries
Any fall, whether from a height, slipping on a wet surface, or tripping over an obstacle, can produce a serious injury. Common workers' compensation injuries include:
Head and brain injuries
Broken bones
Twisted knees, including ACL and PCL injuries
Wrist injuries
Back sprains and disk herniation
Cuts and scrapes that might lead to infections
Workers' compensation benefits cover medical bills that result from the injury. Employees should never be billed if they follow correct procedures and make it clear to treating physicians and clinics that the injury is work-related.
Workers' compensation also pays a portion of lost wages when the injury causes an employee to miss work for more than three days, or if the employee is hospitalized overnight. Those tax-free benefits continue until the employee is able to return to work.
Permanent Disability Benefits
When a slip-and-fall causes a long-term disability, the employee will be entitled to recover permanent disability benefits. An injury is considered permanent when the injury is no longer improving and the employee is unlikely to return to his or her pre-injury condition.
Permanent disability benefits can be paid even if the employee is able to return to work (or to perform some other kind of work). The amount of the benefits will depend on the degree of the employee's impairment. A disability rating is based on a report prepared by the physician who is treating the employee for the disabling injury.
Claims adjusters often argue for a disability rating that is lower than it should be. When a disability rating is unfair, the Los Angeles workers' compensation attorneys at ODG Law Group can help the injured employee challenge the rating.
Need Help? Obtain A Free Consult For Your Slip-and-Fall Workers' Compensation Claim
Most workers' compensation claims that result from slip-and-fall injuries can be resolved in a settlement. Negotiating with a claims adjuster, however, requires experience and skill. When a claims adjuster knows that an employee is represented by a respected law firm with a track record of success, the claims adjuster is more likely to agree to a reasonable settlement.
The workers' compensation attorneys at ODG Law Group know how to maximize the benefits that our clients receive. When claims adjusters refuse to agree to a reasonable settlement, we know how to present the facts at a workers' compensation hearing or trial in the light that is most favorable to our clients. Our combination of experience, skill, compassion, and diligence has cemented our reputation as the premiere workers' compensation law firm for employees injured by job-related slip and falls throughout Southern California.