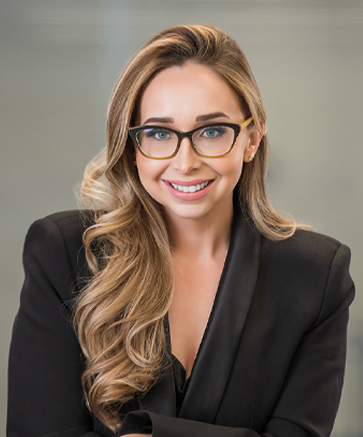 Leanna Der-Grigorian
Owner / Managing Attorney
Phone: 818-230-2428
Email: Email Me
Education:
Loyola Law School, Los Angeles, CA
J.D. - 2010
University of California, Los Angeles
B.A., Magna Cum Laude - 2006
Major: Communication Studies
Background and Education
Leanna was born and raised in Los Angeles and has been ahead of her time and a rising star since day one. At only 16 years old, she graduated from high school and had the rare opportunity of starting her legal career as a teenager. She began working at various law firms and worked in every capacity possible - from being a receptionist and legal assistant to law clerk, associate, and now the founder and owner of her own law firm. This invaluable experience that Leanna gained from a very young age gave her the unique ability to manage and run every aspect of her own practice today.
In her college years, Leanna attended UCLA and majored in Communication Studies, graduating Magna Cum Laude at the age of 20. Soon after, she began her legal education at Loyola Law School and received her Juris Doctorate in 2010. During her time there, she studied abroad in London and participated in a mediation clinic on campus that helped resolve a variety of disputes for low-income families on a pro-bono basis. After graduating from law school, Leanna worked for a prestigious business litigation and employment law firm in Santa Monica where she gained extensive knowledge and experience in civil litigation.
She is now the owner and managing attorney of ODG Law Group where she exclusively practices workers' compensation and represents injured workers across Southern California. She has been given the consecutive privilege and honor of being a Super Lawyer: Rising Star since 2016.
A Passion For Helping The Disadvantaged And Injured
Leanna's love and desire to help disadvantaged employees and individuals began as early as her law school days when she would help mediate claims on a pro-bono basis. Over the years, Leanna was exposed to various cases, especially employment related ones where employees working for companies were taken advantage of, especially when injured, disabled or discriminated against.
"That love for helping people during some of the most difficult and challenging times of their lives is what helped create the practicing departments in ODG Law Group, which was founded in 2011," she said. "I began with practicing employment law and it ultimately evolved into an exclusive workers' compensation practice since many employment cases went hand in hand with workers' compensation injuries."
Leanna built the firm's workers' compensation practice from the ground up in 2012. "I truly enjoy practicing in this field and I'm grateful for the opportunity to help, educate and guide injured workers in this area of the law, which can otherwise be extremely intimidating and challenging to manage as an injured worker alone," she said. "I take great pride in being their advocate in a system where they are essentially powerless against the insurance companies."
Providing Unparalleled Legal Representation And Client Support
As an attorney and owner of ODG Law Group, Leanna strives to provide compassionate and exceptional legal representation and service to all of her clients who trust her to be their advocate and voice in the complex system of workers' compensation. "My goal is to break the stereotype that many have of lawyers – that they never call back and that they don't care to name a few."
Leanna is not your typical attorney and she takes pride in that. She will go above and beyond to make you feel comfortable, make you feel heard and confident knowing that you have someone by your side holding your hand as you recover from a life changing work injury.
Leanna says her goal is to help her injured clients not only obtain optimal medical treatment and benefits but to walk away from their claim with the maximum recovery and financial support possible to help them get back on their feet. She does everything she can to make them feel confident and secure in their decision to hire her firm.
When Leanna is not practicing law, she enjoys spending time and creating beautiful memories with her husband and sons, volunteering at school as a homeroom mom and in the community, traveling and exploring the world, spending time outdoors near the ocean soaking up the sun and flexing her creative muscles as she bakes and crafts for fun!