In Southern California, where there is a dominant car culture, you need a vehicle not only to get to and from work, but to also do your job. You may need your car to get to and from meetings, for meeting clients at off-site locations, for working out on the field, etc.
You may need a truck or van if your job involves making deliveries. If you work for the county or city, you may drive a government vehicle during the course of your employment. A postal worker may have to drive a mail truck for work.
The U.S. Bureau of Labor Statistics (BLS) estimates that about 35 percent of all work-related fatalities in the U.S. are associated with motor vehicles.
Thousands of workers nationwide die each year and hundreds of thousands more are injured each year as a result of on-the-job vehicle accidents.
Those who are injured in motor vehicle accidents when they are on the job are supposed to be covered by workers' compensation law and receive workers' compensation benefits.
However, many workers who are permanently injured or disabled as a result of on-the-job vehicle accidents struggle to receive the car accident workers' compensation benefits they need and rightfully deserve.
The ODG Law Group offers a knowledgeable and experienced workers' comp lawyer that helps injured workers and their families seek fair and full compensation for their losses. Call us at (818) 230-2428 to find out how we can help you.
What You Need to Do After a Car Accident
When you are injured in an on-the-job motor vehicle accident, the steps you might take in the aftermath are very similar to what you might do after a car accident when you are not on the job.
When a car accident occurs, the law requires you to stop, remain at the scene of the accident, wait for authorities to arrive and try to assist injured victims at the scene.
If you have been injured, it is important to stay where you are and allow emergency personnel to treat you and transport you to an emergency room or hospital if necessary. It is critical to get prompt medical care for your injuries.
If you have been injured we recommend that you view our guide "Tips on What To Do If You Have Been Injured" for additional information and resources.
If you are able, it is very important to gather as much evidence as possible from the scene of the crash. Using your phone or camera, make sure to take a lot of photos and videos. You should take pictures or footage of the injuries sustained at the time of the accident, the position of the vehicles, license plates, the roadway conditions, cross streets and location of the accident, damage to your vehicle and other vehicles, etc.
It is important to keep your conversation with other parties limited. Make sure that you don't admit fault when speaking to others. You should also file a police report and obtain a copy for your records. When filing that police report, it is important that your account of the incident is well explained and supported so the police report will be heavily relied on by all parties down the line.
Obtain pertinent information from other parties involved including their contact information, insurance, driver's license, license plate, vehicle registration, etc. Report the accident and your injuries to your supervisor and/or employer right away.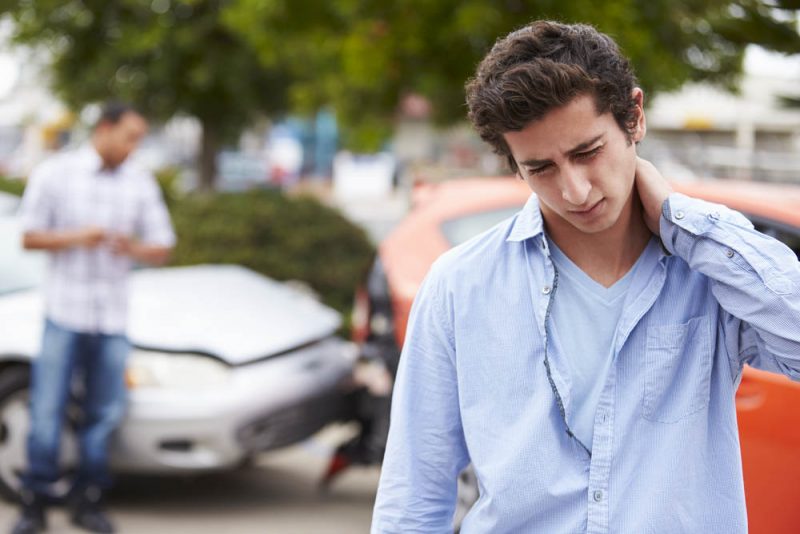 Who is Responsible for Your Injuries?
If a car accident occurs when you are on the job, you are entitled to workers' compensation benefits, regardless of who may have been at fault.
Only car accidents that occur while you are fulfilling your job duties count as "on the job" vehicle accidents. For example, if you have been injured in a car accident while commuting to or from work or when you go to pick up lunch, those may not be covered by workers' compensation but certain exceptions do apply even in those circumstances.
Workers' compensation provides medical care and other benefits such as a portion of lost wages for as long as you are not able to perform your job duties due to your injury.
If the accident was someone else's fault, you may also be able to file a third-party claim against that driver and his or her insurance company to recover maximum compensation for your losses.
In such cases, you would file a personal injury lawsuit against the other driver.
There are also other parties that could be held liable for your work-related car accident including cities or governmental agencies that failed to properly maintain the roadway or automakers, if a vehicle defect caused your injury.
You don't have to choose between filing a workers' comp claim and a personal injury lawsuit. You can file both depending on the nature and circumstances of the case.
For example, you can file a workers' compensation claim seeking benefits from your employer and file a personal injury lawsuit against the at-fault driver. Under California law, you must file your workers' compensation claim within 30 days of the incident.
How a Workers' Comp Lawyers Can Help
If you have suffered injuries in an on-the-job car accident, you may have filed for workers' compensation and have been denied benefits. At this point, many workers tend to give up because the system can be complex and intimidating to navigate on their own.
Retaining the services of an experienced workers' comp lawyer can give you a significant advantage and a much better chance of getting the benefits you deserve.
A knowledgeable attorney can not only help communicate with the workers' compensation insurance company on your behalf and gather medical evidence that will bolster your case, but also negotiate a fair settlement and represent you at your workers' compensation hearing.
It is important to have an advocate on your side, someone who will look out for your best interest. Your workers' compensation attorney at ODG LAW GROUP will be that advocate.
Please remember that the most common reason for denial of workers' comp claims is lack of substantial medical evidence. Your workers' compensation attorney in California can help develop this medical evidence by gathering crucial medical records, arranging for your treatment with the appropriate physicians, getting medical opinions that will substantiate your claim and talking to medical experts.
This will help present a better picture of your situation so you can get the medical and disability benefits you need and deserve during this challenging time.
In addition, a workers' comp lawyer will also ascertain the extent of your injuries, your disability rating and the cost of future medical treatment. Particularly in on-the-job vehicle accidents, a workers' comp attorney can advise you regarding a potential third-party claim. This is a claim filed against a party other than an employer whose negligence might have caused or contributed to your injury.
At ODG Law Group, our car accident workers' comp lawyer are dedicated to helping injured workers get the benefits they need and make the recovery required to return to their jobs. In cases where workers have been catastrophically injured, we work hard to help victims receive the maximum permanent disability benefits as well. Call us at 818-230-2428 to find out how we can help you.