In today's atmosphere, delivery drivers are commonplace. This makes it more likely to be injured while delivering. Delivery injuries are specific, but they aren't a laughing matter. 
That's because thousands of delivery drivers are injured every day for a wide variety of reasons. Unfortunately, the nature of the job isn't hazardous. Unlike warehouses and manufacturing plants, delivery drivers have assured safety before their days begin. 
As a result, these men and women deserve to enjoy their jobs without any worries about injuring themselves. This is where ODG Law Group comes in. If you have been injured on the job and need a workers compensation attorney to fight for you, then we can help you.
Do you want to learn more about how we can help you, continue reading for more information? 
What Constitutes as "Injured While Delivering"?
Being injured on the job as a delivery driver or another related profession is a vague categorization. This is because a lot of people without dangerous jobs can get injured on the clock., and this includes delivery drivers. 
Now, there are specific instances where delivery drivers can get horribly injured. Examples of these injuries include:
Being severely burned by food due to inadequate equipment.

Receiving an injury from a heavy object due to inadequate equipment. 

Falling from an unsafe delivery truck.
Believe it or not, many of these untimely events can take place. If you're visiting this page, then it's likely happened to you. Again, the severity of your injury matters if you're going to be qualified for worker's compensation. 
Here are some requirements for receiving worker's compensation:
Your injury must prevent you from working.

You must have been given medical care or medications.

Must have been required to attend rehabilitation. 

You must have lost wages due to your time off the job.
These are the basic requirements for worker's compensation. However, being eligible depends on how well you follow directions after your injury.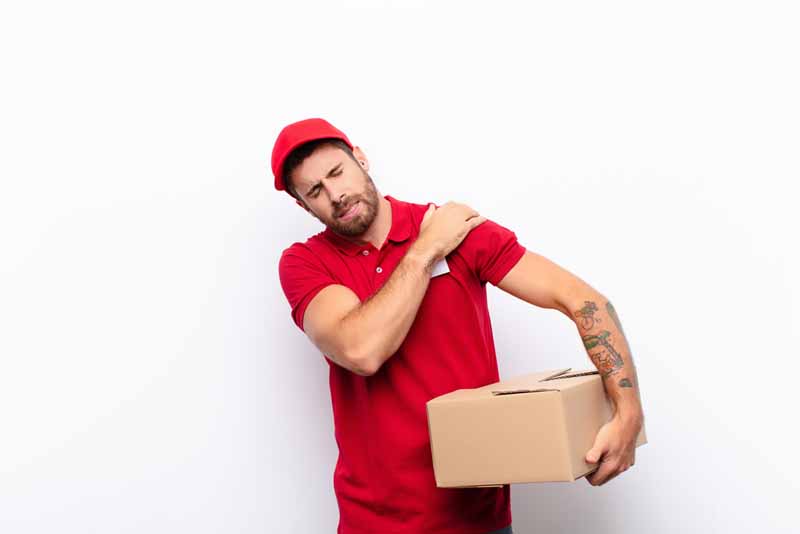 What to Do After You've Been Injured?
The steps you take after your injury are a big deal to your worker's compensation claim. Unfortunately, many people ignore their injury, deny medical attention (usually because they can't afford it), and continue on with their job.
Usually, these people experience painful health effects later and then want to collect worker's compensation. It's important to remember that there is a statute of limitations, so to speak, for worker's compensation claims. 
To be compliant, you have to follow these steps immediately:
Immediately call 911 and report the incident.

Receive all medical attention.

Send someone or collect evidence personally to reinforce your claim.
These are the basic steps of starting your worker's compensation claim. Next, you must focus on hiring a suitable personal injury attorney to build your claim. 
How to Hire a Lawyer After You've Been Injured While Delivering?
Hiring a lawyer is serious business, especially if you don't know where to look. There are thousands of lawyers in the United States. Finding one won't be easy. There is actually a process for selecting the best lawyer after you've been injured while delivering. 
Here are some ways you can get the job done:
Read all online reviews on Google, Yelp, etc.

Collect and verify all references.

Conduct an office tour.

Ask plenty of specific questions about their services (

pricing, experience, etc

).

Ask for a personal reference from a trusted friend or relative.
Following any of these steps will help you avoid choosing the wrong lawyer to represent you in court. ODG Law Group specializes in helping people who have been injured on the job. Allow us to improve the chances of success for your worker's comp claim. 
How We Can Help You After You've Been Injured While Delivering
ODG Law Group has been in business for nearly a decade. We have built a mastery of building successful worker's compensation claims and winning in court. Since our establishment, we have battled legal heavyweights and produced outstanding results.
However, we're most proud of the service we render to the hard-working and honest men and women that are our clients. We take pride in upholding the highest quality of service, and that allowed our reputation to soar as a result. 
Our Proven Track Record for Injured While Delivering Victims
We have built a winning culture here at ODG Law Group. Our faces are recognized throughout courtrooms, and they are our arenas. If you're looking for results, look no further than our firm. 
Our award-winning legal team can investigate your claim, provide substantial evidence that points toward your employer's negligence, and give you the compensation you deserve. 
Give Us a Call Today!
Are you looking for a highly-experienced lawyer in your area? If so, you've come to the right place. To speak to a member of our team, give us a call at (818) 975-3080 to learn more about how we can help you.