The workplace is a dangerous spot for silent dangers. You'll never know when you're going to suffer injuries from an accident due to someone else's negligence. That's why California law requires every employer in the state to carry workers' compensation for their employees.
The workers' compensation will cover the expenses incurred from your work-related injuries. Likewise, it will replace the salaries you lost and other overheads during your recovery period. If you suffer work-related injuries, you have the right to file workers' compensation Speak with our top-rated LA work injury lawyer at ODG Law for help. Dial (818) 975-3080 and schedule a free evaluation of your case.
Workers' Compensation for Employees Injured on the Job
When you suffer injuries while doing your job, you have the right to seek recompense through a workers' compensation claim. It's crucial that you inform your employer about the incident for him to take action. 
The company or employer should pay for any medical treatment for your injuries, temporary and future estimated permanent disability. It also includes other possible compensation benefits.
Medical treatment to help you regain your health and strength so you can get back to work.
Temporary disability benefits if your injury prevents you from returning to work
Permanent disability benefits if your diagnosis says that can't recover from your injury  
Supplemental job displacement benefits come in a form of vouchers you can use for retraining for a new job 
Death benefits in case a worker dies and given to the surviving family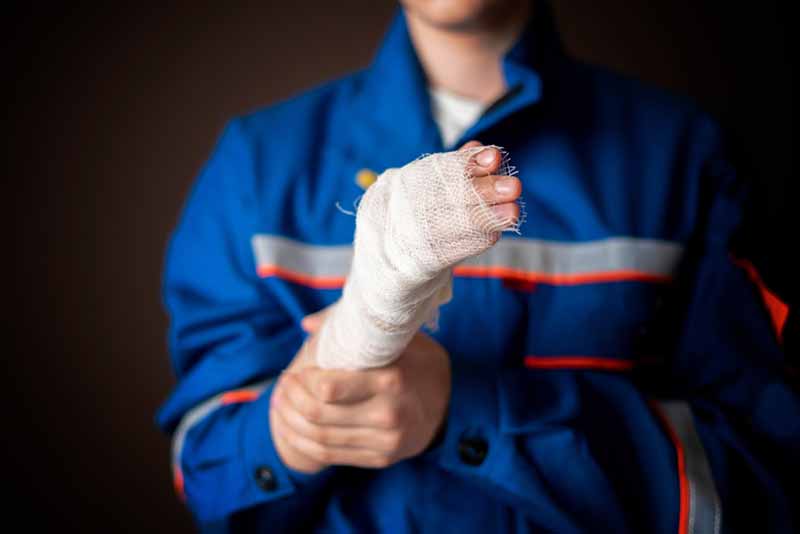 LA Work Injury Lawyer: Why Do Workplace Accidents Happen?
Workplace accidents occur, usually because of the employer or employee's negligence that can result in minor or serious injuries and even death. Here are some of the most common reasons why accidents in the workplace occur.
Factory or warehouse accidents. People working in a factory or warehouse are susceptible to injuries caused by repetitive motion, slip, fall, and heavy equipment to name a few. 
Vehicle accidents. Delivery truck drivers are also prone to collisions because it shares the road with other drivers which can cause vehicle accidents when they don't follow traffic rules, are intoxicated, drunk, or distracted.
Office accidents. Even employees working in the office can sustain injuries from a slip and fall and repetitive tasks, such as typing on a keyboard.
Construction accidents. This accident usually occurs at construction sites where workers may fall from heights, suffer electrocution, and other injuries from using power tools.
Industrial accidents. Workers in industrial companies may suffer from chemical burns, explosions, fires, and toxic or chemical exposures. 
Workers' Compensation is a Must for Every California Employer 
The state mandated that every employer in California must carry workers' compensation for their employees under Labor Code Section 3700. This insurance protects injured workers and they don't have to sue their employers to get compensation.
 It doesn't matter how many employees or workers a particular business or company has they still need to provide them with insurance. If they fail to do so, they will have to face criminal charges.
Nevertheless, employers can also benefit because it helps protect their business when their employee's families file a case against them. 
What are Your Legal Rights as a California Worker?
Being a California worker entitles you to several rights that you should know and your employer must acknowledge. You have the right to:
File a workers' compensation claim

Medical treatment

Be examined by an independent, unbiased physician 

Appeal decisions regarding your health, treatment, and/or workers' compensation benefits 

Get back to your job

Temporary or permanent disability benefits

Appropriate workplace accommodations

Choose and have your own workers' compensation attorney

Settle your case

Directly sue at-fault third parties in civil court
If you encounter any problems with your workers' compensation benefits, our top-rated LA work related injury attorney will protect your rights and ensure that you'll get the compensation you deserve.
What Influences Your Permanent Disability Rating?
The amount that you will get in case you become disabled depends on several factors. It includes:

How old you are

The date of your injury

The nature of your work and responsibilities

What kind of injury does your specific body part endure

Your capacity and incapacity to compete in a fair job market with your impairment

The kind of work that you can or can't perform with your disability 
Why You Should Seek Help from a Top-Rated LA Work Injury Lawyer?
Seeking compensation or filing a claim is a nightmare for most insurance companies. They will do everything to delay and most time, deny your claim. It's because they don't want to pay injured workers and lose profits. 
However, having a top-rated work injury attorneys on your side deters insurance companies and their claims adjusters from degrading, delaying, or rejecting your workers' compensation claim.
There are many sensible reasons why it's important to seek help from ODG Law's top-rated work injury attorney if:
You're filing a workers' compensation claim

The insurance company denied your claim

The settlement offer won't cover the entire entitled earnings or medical expenses 

There's a denial or restrain of any benefits 

You consider applying for social security disability benefits

Your medical condition hinders you from getting back to work

Your employer redresses or treats you indifferently for filing a workers' compensation claim

There's a third party involved that caused your injury

You want to maximize your compensation and benefits 
ODG Law Can Help You
If you sustain injuries while working, financial problems arise because you can't earn money. Your only lifesaver is workers' compensation to cover all your expenses from medical bills to lost salaries. Adding salt to injury is when the insurance company denies your claim.
ODG Law is here to help you get what is duly yours. Together with our top-rated LA work injury lawyers, we'll protect your rights and maximize your compensation. We'll help coordinate your medical care if necessary.
We work on a contingency fee basis, meaning there are no lawyers fees until we win a settlement for you. Contact ODG Law and help us win your battle against the insurance company. Call (818) 975-3080 today for a free case evaluation.