Los Angeles orthopedic medical malpractice happens when a medical professional's diagnosis or treatment causes injury or harm to a patient. The severity and kind of injury regarded in orthopedic medical malpractice can vary significantly. However, at its core, malpractice occurs when an orthopedic injury of any sort is experienced due to the orthopedic surgeon or professionals in-charge of the patient care's carelessness.
Medical practitioners are held to a higher standard than the typical, rational individual. In most cases, the individual determined to be at fault in an accident is the one who did not act reasonably. The level of what is deemed reasonable for medical professionals is significantly more remarkable. It considers their field of practice, degree of training, license criteria, and education level. A trained orthopedic surgeon, for example, would be held to a more excellent standard of care than a medical assistant with only a few months of experience.
Even if you are injured or harmed due to the medical negligence of a medical professional, you are not assured of winning an orthopedic case. You must do a few procedures before filing your orthopedic complaint and taking those liable to the court. To pursue an orthopedic medical malpractice claim, you need to consult with an attorney who specializes in orthopedic injury law. The following are the fundamental stages in filing an orthopedic medical malpractice lawsuit: 
Filing An Orthopedic Medical Malpractice Lawsuit: You must submit an orthopedic medical malpractice lawsuit against the guilty parties to begin your orthopedic complaint. Typically, this lawsuit must be filed in the state where the orthopedic medical malpractice occurred. The court will contact the specified defendant (or defendants) and deliver the documents to them after filing your case and issuing a summons to the defendant.
Proving Orthopedic Damages: This is a crucial component of any orthopedic medical malpractice claim. To claim orthopedic damages, you must be able to prove that you were orthopedically injured. There is no case unless you can show that you were injured. You can demand damages for current suffering and pain, as well as immediate care, as a result of the orthopedic injury, and you can also ask for orthopedic compensation for future suffering, pain, and treatment, if applicable. You can even seek orthopedic compensation for psychological harm or damages and a deterioration in your quality of life. In many cases, the damages for suffering and pain far outweigh those for genuine medical care.
Potential Orthopedic Settlement: Orthopedic medical malpractice lawsuits frequently result in settlements in the thousands of dollars. The majority of orthopedic medical malpractice lawsuits are settled out of court. In some cases, the court may even promote an orthopedic settlement. Most of these settlements are paid out by the defendant's orthopedic medical malpractice insurance provider. Before signing and agreeing to any orthopedic settlement, consult with your orthopedic injury attorney in Los Angeles. Most settlements will require you to sign a contract declaring that you will never be able to reopen your orthopedic claim again. Your orthopedic injury attorney is most qualified to assist you in determining whether or not the orthopedic settlement offer is reasonable.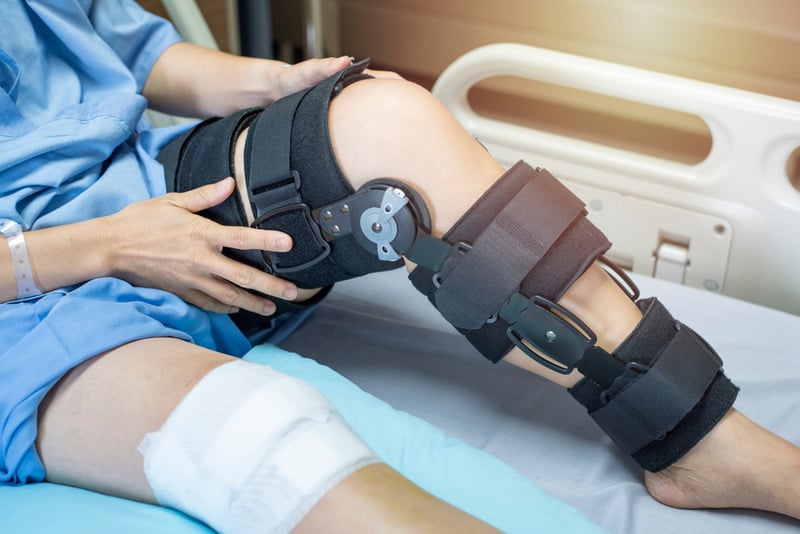 Orthopedic Malpractice Suits: Orthopedic Damages You Can Obtain
An orthopedic patient or victim who has been harmed, injured, or the relatives of a deceased patient, may be entitled to orthopedic compensation for the injury caused by a negligent medical professional, institution, or other parties. These accidents are designed to recompense orthopedic sufferers for their losses, and they may include the following:
Medical Expenses: Hospitalizations, physical therapy, doctor's appointments, prescription drugs, assistive equipment, and any past and future expenditures incurred from your orthopedic injury. 
Lost Income and Future Earnings: If you cannot work due to your orthopedic injury, you may be eligible for orthopedic compensation for lost income. If you cannot earn the same amount of money as before your orthopedic accident, you may qualify for orthopedic compensation for lost earning capacity.
Pain and Suffering: Damages will be paid to the orthopedic victims or sufferers to compensate for the physical pain and emotional misery caused by their orthopedic injury (e.g., anxiety, fear, depression, and other mental distress).
Loss of Consortium: Surviving orthopedic family members may be paid for the loss of support, companionship, and other advantages supplied by a family relationship.
Other Orthopedic Damages: You may be awarded orthopedic damages, including loss of enjoyment of life, disfigurement, and punitive damages (intended to penalize criminal negligence or irresponsibility).
How Can Orthopedic Medical Malpractice In Los Angeles Help Orthopedic Victims?
Orthopedic medical malpractice cases bring together two disciplines of study: law and medicine. These matters are inherently complicated, needing the attention and expertise of a well-versed attorney in both fields. You should consult with an orthopedic injury attorney who can:
Have in-depth knowledge of a wide range of medical conditions.

Capable of navigating through complex medical records.

Choose which specialists to consult.

Learn how to ask the right questions.

Can predict the techniques and approach that the defendant's lawyers will use. 
Moreover, you will need the aid of a law firm with the means to take on major hospitals and insurance companies. You may be certain that ODG Law Group, as Los Angeles' leading orthopedic injury law firm, is exceptionally qualified to handle nearly any orthopedic medical malpractice case. Our orthopedic injury attorney can help you with:
It provides a free case evaluation to orthopedic patients and victims to help them determine if they have a claim for orthopedic compensation.

Gather and assess data to support your orthopedic claim.

Calculate your overall short-and long-term losses.

Find out who is to blame for your orthopedic injuries.

Explain your legal rights to you in detail and keep you updated throughout the process.

Handle a complicated court process.

Fight for the greatest potential outcome in your orthopedic case.
ODG Law Group: Consult With Our Expert Orthopedic Injury Attorney Today
Navigating an orthopedic medical malpractice lawsuit may be a challenging and stressful experience. Consult a professional orthopedic injury attorney to expedite the process and help your case move much more smoothly. An orthopedic injury attorney will be skilled in managing these sorts of claims and know the best strategies to assist you in obtaining the highest potential orthopedic compensation.
For this reason, we work on a contingency basis, which means that hiring us is free, and we are paid if you win. There are no hidden fees or out-of-pocket expenses. So, don't hesitate to contact an orthopedic injury attorney from ODG Group in Los Angeles, and you will be assigned to a trustworthy and reliable orthopedic injury attorney who will provide you with the justice that you need. For a free consultation of your orthopedic medical malpractice case, please visit the website at odglawgroup.com or call ODG Law Group at (818) 975-3080 today.