Los Angeles Construction Injury Lawyer: Slip and fall accidents can occur in any workplace, from a corporate office or a school to a bustling manufacturing plant or warehouse. On the other hand, construction workers have the highest risk of a severe slip and fall accident on the job. The Occupational Safety and Health Administration (OSHA) reported that 320 construction workers died in slip and fall incidents in 2018. Many, if not all, of these tragic deaths could have been avoided if employers provided the necessary training and ensured that all employees used the necessary fall prevention equipment. Slip and fall accidents can result in severe injuries for construction workers, who may be eligible for Workers' Compensation benefits.
A busy construction site contains various hazards, such as being hit by a falling object, electrocution, and exposure to hazardous materials. Slip and fall accidents, on the other hand, are among the most common construction-site hazards. According to OSHA, slip and fall accidents cause nearly one-third of all reported workplace injuries and 40% fatalities in the construction industry. Injuries from slip and fall accidents resulted in 50 percent more missed work days than other types of injuries.
Thus, if you suffered a severe injury due to a slip and fall accident while working on a construction site, let a Workers' Compensation Law Attorney in Los Angeles assist you with this matter.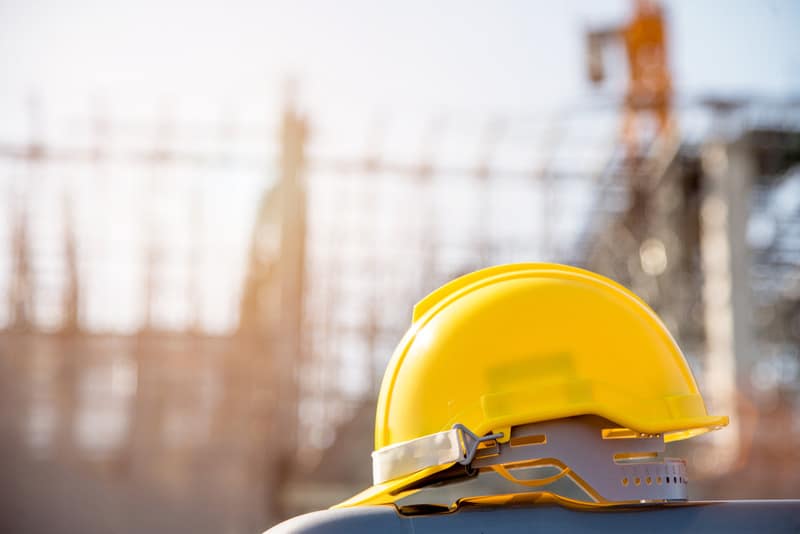 Slip and Fall Accidents: Common Causes
Workers on the construction site face various slip and fall hazards, whether they are working on the ground floor or several stories of scaffolding. The following are some of the most common slip and fall risk factors on construction sites:
Uneven surfaces, such as worn or uneven carpeting or sagging floorboards

Spilled liquids or recently waxed or polished floors can cause wet or slippery surfaces.

Trash or debris on the floor

Electrical wiring or stray cords

Handrails that are broken or damaged

Inadequate lighting

Inadequate safety training and equipment
Los Angeles Construction Injury Lawyer: Types of Slip and Fall Accidents
There are two kinds of slip and fall accidents in the construction industry:
Falls on the same level: As one might expect, these result in less severe injuries, such as minor cuts, bruises, strains, and musculoskeletal injuries.

Falls to a lower level: These can result in serious, even fatal, injuries, especially if the worker falls from a high-level surface.
Slip and Fall Accidents: Employers Must Take Preventative Measures
Employers are responsible for providing a safe working environment for all employees, including those on construction sites. Although accidents do occur, employers can take proactive steps to protect employees and reduce the risk of slip and fall accidents, such as the following:
General housekeeping: According to OSHA, all passageways must be clear and free of obstructions. Floorboards that are broken or missing must be repaired. Passageways must be sufficiently wide to allow for safe clearance. Employers should make sure that construction workers have enough time to clean up after themselves.

Maintain indoor/outdoor surfaces: To avoid slip and fall accidents, employers should treat outdoor surfaces with sand, salt, and anti-skid adhesive depending on the surface type and what is making it slippery. Indoor surfaces should be cleaned regularly, and floor mats should be flat, with beveled edges, and made of non slip material. Workers should be required to wear traction-enhancing boots or shoes.

Maintain lifting equipment: A variety of equipment, including lifting equipment, is used on construction sites. Construction workers who operate lifting equipment must receive adequate training before they can operate a machine. They must also be trained in how to use personal fall arrest systems. If workers notice any problems with the lifting equipment or personal fall arrest systems, they should immediately notify a supervisor so that the necessary steps can be taken to have them repaired.

Floor loading protection: The weight that a surface can support is limited. The maximum weight is a load rating, and the approved load limit must be displayed. The total weight of all people, tools, machines and objects on the surface is included in the load limit. Exceeding the load rating is not only dangerous; it is also illegal. Before a worker places a heavy object on a surface, they must ensure that the surface can withstand the load.

Cover holes and openings: An OSHA-defined hole is a gap or space in a horizontal working surface that is more than two inches wide. An opening is defined as a gap in a vertical surface that is at least 30 inches high and 18 inches wide and through which a person could fall if not appropriately covered. All holes and openings should have covers or railings, as well as a toe board if tools can fall into or people can pass through them.

Safeguard stairs and ladders: Using handrails, making sure stairwells are well lit, repairing damaged individual stairs, maintaining stairways clear of debris, and wiping away any wet spots can all help to prevent falls from stairs. Employees should inspect ladders before using them and fix damaged or defective areas, prevent exceeding the load rating, keep metal ladders away from electronic equipment, and avoid using a horizontal ladder as a work platform to prevent falls from ladders.

Scaffold safety: Falls from scaffolding can be especially dangerous, so employers and construction workers must prioritize safety. Guardrails, mid-rails, and toe boards are required on scaffolding that is higher than 10 feet. The scaffold must be able to withstand four times the maximum intended load. Damaged or weakened scaffolding should not be used.

Exercise caution when approaching open-sided floors: If an open-sided floor is six feet above the ground, it must have railings on all open sides, except at ramp and stairway entrances. A toe board is also required if people pass beneath it, there is moving machinery below, or there is a risk of falling objects.

Loading dock safety: Dock boards, which are movable ramps, must be secured, according to OSHA. Wheel chocks or brakes that meet Federal Motor Carrier Safety Administration (FMCSA) requirements must be used to keep vehicles from moving. Workers should avoid uneven terrain and keep the dock dry and free of debris. At all times, vehicles must be adequately secured.

Excavation safety: A fence, barricade, or guardrail system must be installed if an excavation site is six feet or deeper.

Dangerous equipment: Depending on the equipment, guardrail systems, safety net systems, personal fall arrest systems, or toe boards must be used to protect workers from accidents with dangerous equipment.
Injuries Commonly Caused by Slip and Fall
Slip and fall injuries can be pretty severe, significantly if the worker fell from scaffolding or another high-off-the-ground surface. The following are some of the injuries that construction workers may sustain as a result of a slip and fall accident:
Fractures

Burns or abrasions

Amputation

Death 

Permanent Disability

Traumatic brain injuries 

Spinal cord injuries
What Compensation Can Workers Get for Injuries?
Workers' Compensation benefits are available to construction workers who are injured in a slip and fall accident to help with the financial burden of the injury. The employee may be eligible for the following benefits, depending on the circumstances surrounding the injury:
Medical expenses, such as hospitalization, surgeries, doctor visits, and prescription medications

Future medical costs if additional medical care is required in the future

Physical therapy, occupational therapy, and other forms of rehabilitation costs

Counseling costs if the employee suffers from anxiety, depression, or post-traumatic stress disorder (PTSD) due to the injury.

Lost income

Future lost wages if the injured worker is unable to return to work.

Loss of consortium 

Loss of quality of life 
A third party may also be responsible for the worker's injuries in some cases. For instance, if the accident was caused by a contractor, subcontractor, vendor, customer, or property owner, the worker may be able to sue a third party. An experienced construction fall lawyer can examine the facts of the case and advise you on the best legal course of action.
Los Angeles Construction Injury Lawyer: How Can ODG Law Group Assist You?
Los Angeles Construction Injury Lawyer: If you were injured in a slip and fall accident while working on a construction site, do not hesitate to contact the ODG Law Group. Our skilled legal team understands how frightening these injuries can be, significantly if you fell from a high vantage point, and will work with you through the claims process. To schedule a free consultation, please call (818) 975-3080 or send us an email. Our firm also provides our clients with Spanish, Armenian, and English-Speaking Services.