Some of us might experience a slip and fall accident at some point in our lives. The worst part of it is that the unfortunate incident is unlikely to be their fault. Accidents on the job or other's property occur, and injury issues are common, but when someone else's carelessness (or negligence) is involved, you may question your legal rights. Thus, having a top rated workers' compensation lawyer in Los Angeles can guide handling this matter on your behalf.
Defining legal responsibility in any worker's compensation incident is a critical component in any case. Each year, people are injured when they slip and fall on a slick sidewalk, an uneven floor, or a flight of stairs. In some cases, the proprietor or manager of the establishment might be held liable if they were aware of the incident but did nothing to resolve it.
If you get injured in a business context, such as a store or mall, you have the right to sue the establishment. In a residential area, the homeowner (or, more specifically, their insurance) should be responsible. While it happens at work, your only option is to file a slip and fall claim. Whether you want to settle a slip and fall injury claim or file a lawsuit, to process your request about the case, you must be able to document that someone else—typically the landlord or the establishment—is legally liable for your injuries.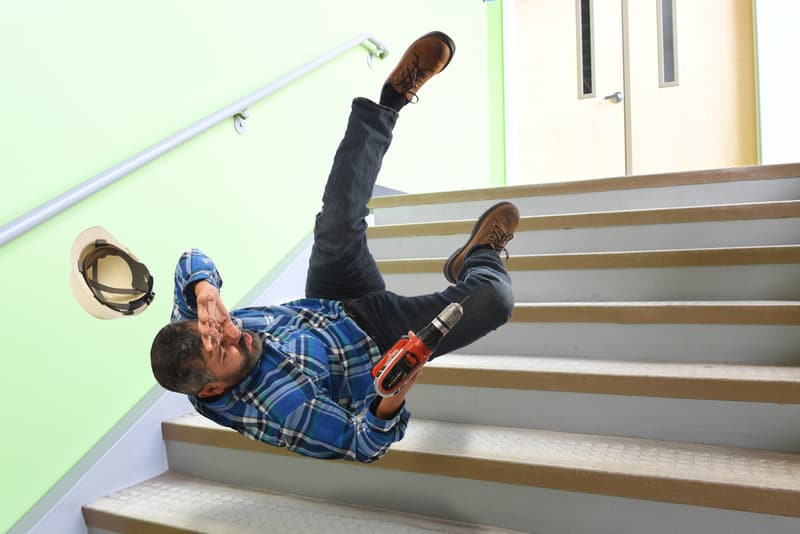 Slip and Fall Injury: Process To Take After
If you or the person you care about is involved in a slip and fall incident, a slip and fall lawyer in LA will guide you through several processes you must take immediately after the critical incident to build the most robust legal case possible.
First to be valid is determining who was at fault. Slip and fall lawyers work to establish who was negligent in causing your injury. They will investigate the premises where you fall and determine how and why it happened. It's also critical to gather all potential witnesses' names, home addresses, phone numbers, and email addresses. If you decide to file a lawsuit, their statements may help you prove your case.
Remember to photograph the exact location where you fell, as well as other conditions that contributed to your accident. Keep a record of what you were doing just before the accident, how you feel, and any further details, including the exact time and date. Put the shoes and clothing you were wearing at the time of the accident in a safe place. They might turn out to be essential pieces of evidence later on.
Lastly, your slip and fall injury claim has proved the damages by medical records, which the lawyer will provide to the court. They will also go over your injury claim to see if any mistakes occur in the initial report. Furthermore, the lawyer may request that you undergo additional tests, such as MRIs scan and X-rays, to support your case. You will also need to show the physician who attended you in the hospital. The physician will request that you send him or her copies of the photos via mail. Once the physician has these photos, he might write a report that you can present evidence later on. A workers' compensation lawyer's responsibilities in these situations include preparing the necessary documents and professionally submitting your claims.
Top Rated Workers' Compensation Lawyer In Los Angeles: How Can A Slip and Fall Lawyer Assist You With The Settlement?
One of the many slip and fall lawyers must deal with is the employer's insurance adjuster. If you handle your case by yourself, insurance companies can take advantage of you. As a result, having a slip and fall lawyer on your side will ensure that you receive the compensation you deserve. The LA lawyers will review your claim and work with you to settle it. If you do not have a severe illness, you may be able to reach an out-of-work injury settlement that covers some of your lost wages as well as a few medical bills. It is frequently a lump sum payment, but it is preferable to losing your job because you are unable to work. This type of settlement is not available if you have a medical emergency and are unable to work.
Many employers would prefer to settle their claims, but this is not always plausible. If they offered money, you should seek the advice of a lawyer. You require someone to advocate for you and negotiate a fair settlement. Although the employer's insurance adjuster is an expert in this matter, only a legal representative can ensure the validity of your claim.
Many people believe they do not have a case, but slip and fall claims involve various factors. Not every situation is the same. If you need assistance with the preceding paragraph, contact a slip and fall lawyer in Los Angeles. They can give you an unbiased assessment of your case and explain your options. You will not be duped or taken advantage of if you have legal representation.
ODG Law Group Houses Top-Rated Slip And Fall Lawyer in Los Angeles
When you have already decided to file a lawsuit for your slip and fall injury, it is indeed best to hire a better slip and fall lawyer in Los Angeles from a reputable law firm like Oktanyan Der-Grigorian Law Group. Since 2011, ODG Law Group has served injured employees with a strong vision of protecting and upholding their clients' rights and holistic welfare.
ODG Law Group has successfully handled countless slip and fall cases over the years, and they strive to do their utmost in attempting to defend those who have no authority and no defense. Going through a legal lawsuit, regardless of the reason, is difficult. 
The question is, what will you do next? It would be best if you spoke with a slip and fall lawyer in Los Angeles to learn more about your legal options. It's time to get the compensation you deserve! Call ODG Law Group at (818) 975-3080 today to avoid wasting any more time.