Warehouse workers work hard to earn more for their families. They don't mind exhaustion, sleepiness, or even hunger pangs. They also seldom use the restroom just to reach their quotas.  
These tireless workers do several tasks, from loading and unloading trucks to packaging goods and managing inventory. Most of these duties are physical in nature, the reason why several warehouse injuries take place every year. 
Most workplace injuries occur in warehouses where workers operate massive and dangerous types of machinery. These warehouse accidents and injuries are generally catastrophic and deadly. 
If you're a warehouse employee and sustained a work-related injury, you're eligible for workers' compensation benefits. Contact Los Angeles warehouse injury lawyers to ensure that you'll get the benefits you deserve. Workers' compensation is only the start of your financial recovery.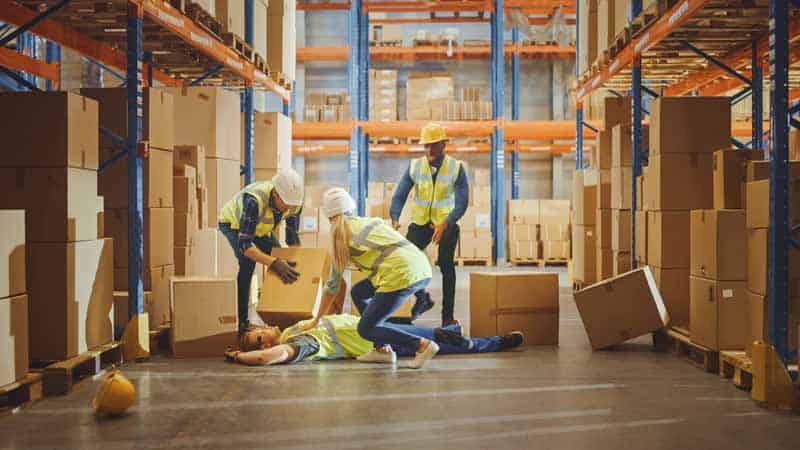 Los Angeles Warehouse Injury Lawyers: Eligibility for Workers' Compensation
California law compels all employers to grant workers' compensation benefits to employees. It's a requirement no matter the industry or size of the company. But, the law doesn't require employers to bear benefits for independent contractors or volunteers. The law specifies that these privileges only apply to workers legally categorized as employees.
When you suffer injuries at work, it's necessary to distinguish if you're an employee or not. If you are, you can file for workers' compensation and reap the benefits.
Why Do Warehouse Accidents and Injuries Occur?
Accidents happen the least you expect them. However, these can be avoided if the employer or property owner is not negligent. Here are some of the most common reasons why warehouse accidents and injuries occur.:
Insufficient proper training or instruction

Negligent or incompetent employees

Failure to adhere to limits, standards, and restrictions

Obstructed walkways and exits

Safety violations

Poorly maintained equipment or equipment failure

Missing or obstructed signage
Warehouse Injuries Covered by Workers' Compensation
Workers in warehouses may sustain two different types of injuries – specific and cumulative. Specific injuries occur due to random accidents, including falling goods, forklift accidents, and slips and falls. Here are some of the most specific injuries that warehouse employees endure:
Traumatic brain injuries (TBIs)

Lacerations

Broken or fractured bones

Spinal cord injuries

Back injuries

Burns
Warehouse workers can also suffer from cumulative injuries. These are injuries that occur because of repetitive motions or tasks. It includes frequent lifting of heavy boxes, utilizing the same hand tools, or reaching overheads, to name a few. Doing these same activities for prolonged periods can result in various work-related injuries, such as:
Thumb injuries

Thoracic outlet syndrome

Cubital tunnel syndrome

De Quervain's syndrome

Soft tissue strains or sprains in the neck, shoulder, and back

Carpal tunnel syndrome
Value of Your Compensation
The compensation a worker may receive varies and depends on a case-by-case basis. Besides, there are also different factors that may affect the value of the compensation. The benefits an injured worker may get include:
Medical care benefits

Temporary disability benefits

Permanent disability benefits

Supplemental job displacement allowances
These benefits help injured employees or workers to cover their:
Medical bills

Lost salaries

Lost earning capacity

Retraining

Job replacement
Importance of a Los Angeles Work Injury Lawyer When Filing Workers' Compensation 
As previously mentioned, there are factors that affect the value of a workers' compensation. There are also other factors that can cause warehouse injuries requiring you the assistance of a skilled Los Angeles work injury lawyer. These are:
Product liability claims, such as faulty products or machinery defects

Reckless care of warehouse premises and other premises liability claims

 Forklift and other machine accidents 

Negligent maintenance

Determining the facts of your case

Deal with the insurance company if there's a third party involved

Certain deadlines and requirements must be met
Based on your situation, the lawyer may seek a claim against a property owner, delivery driver, manufacturer or another responsible party. Your case may require an aggressive investigation and preparation to ensure you and your family get the maximum recovery. 
Get the Help you Need from the Oktanyan Der-Grigorian Law Group
Filing a workers' compensation claim is a complex process. You need someone whom you can rely on to help you with the procedures. Our Los Angeles warehouse injury lawyer at the Oktanyan Der-Grigorian Law Group are always ready to help. 
We prioritize the security of your benefits and the compensation you need to recover from a work-related injury. Our track record and expertise have won considerable amounts for our clients. 
Hiring the right Los Angeles warehouse injury early can help avoid unwanted delays and setbacks. The sooner you contact us, the sooner you can resolve your workers' compensation claim. 
Schedule a free case evaluation with us and speak with one of our compassionate and dedicated warehouse injury attorney. We work on a contingency fee basis. You may reach us at (818) 975-3080 or you can email us. Call us today and let's hear about your case.