Truck and package delivery drivers are most susceptible to low-back pain. They're also vulnerable to other work-related injuries, particularly long haul truckers. Because of the job's nature, numerous truck and package delivery driver injuries are common. This often results in a huge number of truck drivers filing for worker's compensation. Our worker's comp attorneys can help you get the compensations that you deserve.
Delivery Driver Injuries: Risks Involved in the Trucking Industry
An injury can end a truck driver's career. Worse is, they are left struggling with high medical bills and financial instability. Below are the risks involved in the trucking industry that often result in delivery driver injuries:
Delivery driver injuries due to being overwhelmed by or against things

. Truck delivery drivers are defenseless to being struck by objects. Also, exposure to different things can harm them such as lifting hitched trailers. The opening of containers and the attachment of trailers to trucks also pose risks.

Muscular disorders of the back, neck, and upper extremities

. This condition is due to loading and unloading the truck. Lifting boxes, containers, and cartons also contribute to delivery driver injuries. Moreover, injuries result in using loaders or when dealing with vehicle tires. Most of these disorders arise due to overexertion of the muscles.
Delivery driver injuries under this category include the following:
Sprains and strains

Back pain, specifically in the lower back

A prickly feeling of arms and hands 

Shoulder pain
Delivery driver injuries related to the vehicle

. Over half of all delivery truck driver mortality are due to vehicle injuries. They get hurt when they lose control of the truck they are driving. In the same way, getting harmed is likely when collided with another vehicle. Moreover, getting rolled over with their own vehicle or another is possible.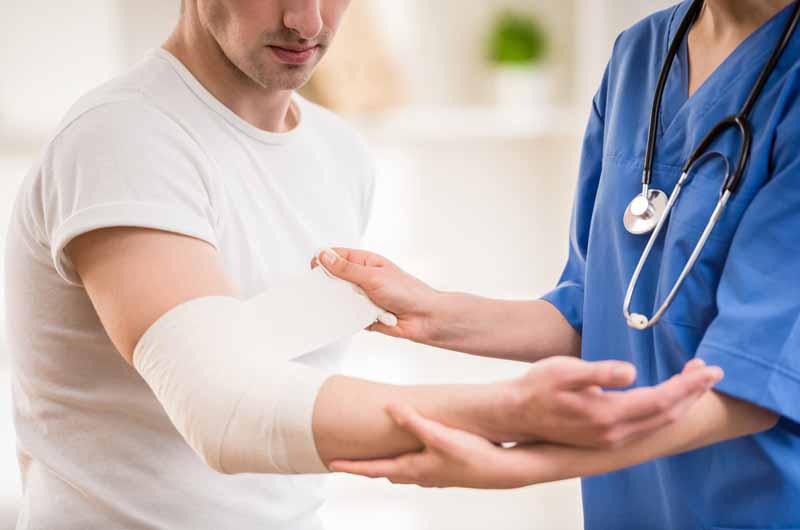 What to Do After Getting Injured While at Work?
Delivery drivers need to take note of the following after getting injured while at work:
Inform his immediate supervisor or manager regarding the injury.

Accomplish a workplace accident summary. 

He needs to seek medical attention the soonest possible time.

He needs to consult a capable LA personal injury lawyer from the ODG Law Group. 
What are the Workers' Compensation Benefits for Delivery Driver Injuries?
In a no-fault insurance system, worker's compensation provides medical treatment. This also encompasses income replacement benefits to injured workers. It allows them to return to work as soon as possible. Delivery drivers are possibly entitled to get the following benefits:
Medical Attention
Medical attention includes justifiable, significant, and warranted medical costs associated with workplace injuries. Injured delivery drivers can choose their physicians from the authorized list of treating doctors. They also have the opportunity to change doctors once during the progress of their case.
Income Replacement
This benefit is a payment made to a worker injured from a vehicular accident. Those entitled include delivery drivers who haven't returned to work for more than 7 days. They are usually eligible for temporary total disability (TTD). The payout is 70% of the gross income prior to the accident. This only applies to those employed and not self-employed.
Decease Benefits
Delivery drivers who died due to injuries while on the job will receive death benefits. Families of the deceased are the sole beneficiaries. The said benefit includes funeral and burial expenses. Dependents, on the other hand, will have weekly payments.  
What are the Options Following Delivery Driver Injuries?
Delivery drivers do various types of work and endure different injuries. They can have a dog bite, for instance. In many severe cases, they have options after incurring delivery driver injuries.
Every delivery driver, however, has a physically arduous job which takes tolls on the body. Because this kind of job is intensive, delivery driver injuries definitely end a career. Fortunately, there are options for them after getting injured.  
Filing Claim for Worker's Compensation
This is the only way a delivery driver can get compensation from his employer. As an independent contractor, you can file a worker's compensation claim. This is possible when you're hurt due to your delivery driving job.
Furthermore, you can file a claim if you acquired recurrent stress injury. Likewise, illness due to exposure to hazardous chemicals calls for compensation. The benefits you'll get include payment for medical bills as well as costs. This must also cover a partially lost salary if necessary to miss work. This also applies if you're temporarily or permanently disabled.
Filing Personal Injury Case Against Third Party
A delivery driver can't beseech his employer following an injury on-the-job. This is according to the worker's compensation rules.  You can also file a personal injury claim if there's someone else's responsibility. A house owner's slippery porch or truck manufacturer's faulty breaks, for example, are also grounds for filing a case.  
Additionally, you can file a personal injury claim against another driver. It's important that you can provide evidence that it's the other party's fault. Third-party injury lawsuits make it possible to get compensation for delivery driver injuries. This allows the injured delivery driver to get compensation for the pain and suffering the injury caused.   
Where to Seek Legal Help in Terms of Delivery Driver Injuries?
The Oktanyan Der-Grigorian Law Group, Inc. is the only law firm you'll ever need. The company's establishment in 2011 honed its lawyers to become experts. Its goal is to support and safeguard the physical, emotional including the financial welfare of the people who need legal help.
You can contact them at (818) 975-3080 or visit their website. Know your rights and call now for a free case evaluation.