OSHA, the "Occupational Safety and Health Administration" states it clearly on their site: "Healthcare workers face a number of serious safety and health hazards." We count on our healthcare workers to do so much for it. They heal us, make our pain go away, and in many cases keep us alive, literally. To do all that, they navigate one of the more dangerous workplaces in any industry. At the ODG Law Group, we're proud to have helped so many hospital and medical workers with their workers compensation over the years. In this blog, we'll cover some typical hospital worker injuries while mentioning some ways that Workers Compensation Lawyer can help.
Hospital Workers Injuries
According to OSHA, "more workers are injured in the healthcare and social assistance industry sector than any other." That's a genuinely staggering statement. When you think of all of the other industries: auto workers, law enforcement, construction and more, it really puts into perspective how dangerous the healthcare industry can be. Indeed, OSHA goes on to say that in 2010, healthcare accounted for "152,000 more cases (of injury and illness) than the next industry sector: manufacturing." When you're hurt on the job in a hospital, you deserve to receive compensation.
Hospital Worker Dangers
Just laying out even a few of the potential dangers that hospital workers could face on a daily basis is enough to make someone that much more grateful for an office job. Many of the things that patients take for granted in a hospital setting can be cause injuries to healthcare staff. For example, X-rays use plenty of radiation and there are plenty of pathogens of all kinds in the hospital. Indeed, basically every single room has a container that's literally labeled "Biohazard." That's a sign of a dangerous workplace.
In addition to encountering each of these in the course of a typical workday, the hospital worker also has to be around these all day. With long shifts that can extend well into the night or early morning, overexertion can be a serious problem. Many times, hospital workers can get hurt when they just aren't aware of how long they've been working.
To be clear, "overexertion" doesn't always mean "works for far too many hours straight without a break." Instead, it often means that they've performed some kind of repetitive motion, over and over again, until they've caused themselves a serious injury. Even the most in-shape and conscientious hospital worker spends plenty of time bending over, lifting heavy objects, or reaching into high cabinets or low ones. On a day to day basis, they're probably fine. But over the course of years, it all adds up. It just takes one time for the hospital worker to suffer an injury that they could deserve workers compensation for.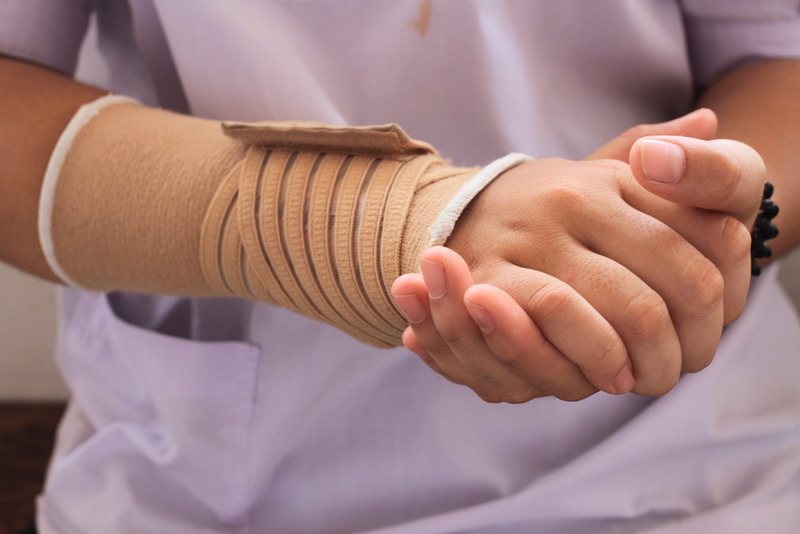 Injuries to Even the Best Trained Hospital Workers
Management at hospitals and other healthcare facilities has a legal responsibility to make sure that hospital workers have had appropriate safety training, know how to assess patients properly and even have policies about minimum-lifting. However, even with all that, hospital workers can still be injured. Even a hospital worker with plenty of experience, who uses proper posture when lifting heavy equipment or patients, can eventually be hurt over a period of time.
No matter how much a hospital worker follows proper safety protocol, they can still trip and fall. If someone else at the hospital didn't properly clean up, it's still possible to slip, trip or fall on a hard surface which can lead to significant injuries. Patient assessment tools are important. Hospital workers have to know how to properly deal with all different kinds of patients. That being said, there are still going to be violent patients. Sometimes, hospital workers will get attacked by them, even with all of the right training and practice.
Working with hazardous materials is just part of life in a hospital. Many of the life-saving medicines and technology involves using materials that can be hazardous to the hospital staff. Exposure to these has lead to so many different hospital injuries. It's not just the orderlies who we've helped with their cases after they've been injured in this manner. In fact, we've helped so many surgeons, nurses, doctors and more. Healthcare workers of all kinds deserve to have compensation when they're hurt on the job.
Types of Injuries Suffered by Healthcare Workers
In our time helping healthcare workers to receive the compensation they deserve, we've seen so many different kinds of injuries. Sprains and strains are among the most common, just because they can happen in a moment. We understand that healthcare workers may feel like they have to keep going for their patients. We respect that. Healthcare workers have an important job, and the last thing anyone wants to feel like is that they even slightly shirked their duties.
However, when you're hurt in a hospital setting, even if it's just a tiny scrape or strain, it's important to reach out to workers compensation attorneys. Sure, maybe you can work through it. Perhaps you can keep doing your job to the highest level of your ability that you and the patients in your care expect. However, at some point, if you don't give your body that opportunity to heal, it could catch up to you.
The surgeon who suffers a sprain one morning and works through it might be fine. Letting the injury linger without doing something about it could, in time, make it so they can't do their job as well as they could before. Then, the surgeon has to take even more time off to fully heal and recover. You, your family and your patients deserve to have you at the absolute apex of your abilities every moment they're in your care. That's why it's so important to reach out about workers compensation as soon as possible.
No healthcare worker wants to miss time from their job. We get that. But, sometimes the best way to recover from your injury is to take some time off and heal. Should that happen, we can discuss your settlement options with you so that you can get the money you need for your own medical bills, lost wages and more. To be clear, you don't have to have gone through some kind of sprain or strain to do this. We've helped so many healthcare workers who suffered as much as a bad bruise at work. That can keep you from doing your job to the best of your abilities, too.
Many of the healthcare worker injuries that we've seen include fractures, broken bones and worse – the kinds of injuries that can keep you out of commission for a long period of time. In addition to helping those clients to get payment for their medical bills, we've also helped them to get compensation for time they missed at work. When you're recovering from something like that, you shouldn't have to have one eye on your bank account. We can help you to put your focus on where it should be: your recovery.
Many of the cumulative trauma injuries that the ODG Law Group encounters are just soreness. When you do the same thing, over and over again, for days and years on end, eventually that's going to take a toll. No matter how good you are at your job, nor how careful or in shape, these kinds of injuries can catch up to you. Should that happen, you deserve to have a firm on your side with a proven track record of helping healthcare workers. The ODG Law Group can meet you with for a free consultation. There, we'll sit down and listen to your story. Then, we'll lay out the options as we see them, so that you can get what you deserve and get back to work. For more info, message us through our site or call us at (818) 975-3080.