The holiday is just around the corner and e-commerce businesses such as Amazon is making haste to fulfill orders and send them to customers on time. It also means that workers need to make double time, forcing them to work non-stop just to reach their quotas. Although the world eased its Covid-19 restrictions, many people prefer to order online and have it delivered to their front door. They can buy at brick-and-mortar stores, however, they cannot send it directly to their loved ones from someplace else unlike when you order it online. 
Due to the holiday rush, most people prefer to order items online for personal use or as presents to avoid traffic jams and save time. Amazon warehouse workers have no time to rest and must do their work faster, causing them to develop injuries and illnesses they are not aware of until they experience pain.
If you suffer injuries or developed an illness while working for Amazon, seek medical attention and inform your supervisor or manager about it. You're eligible to file workers' compensation to take care of your medical expenses and replace lost wages. Seeking legal advice from ODG Law can help you a lot to learn the process of filing and avoid hindrances. Call (818) 975-3080 to schedule a FREE consultation with one of our skilled workers' compensation lawyers in Los Angeles.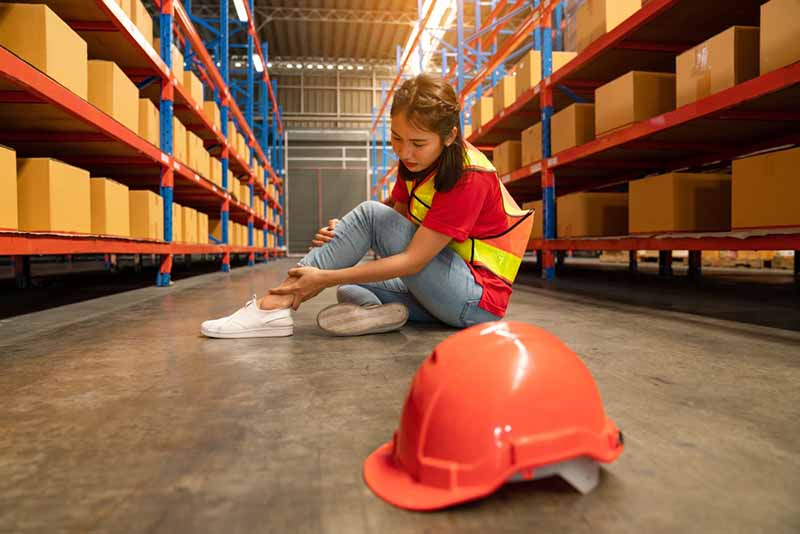 What is Workers' Compensation?
It is a no-fault insurance system that benefits both the employer and the employee. This program is a give-and-take between the two parties with an agreement that the worker cannot sue his employer or company for their negligence when he suffers work-related injuries.
When a worker sustains an injury while doing his job, it's the employer's responsibility to seek medical care for his injured worker immediately after learning about his misfortune. Depending on the severity of your injury, you may receive benefits including medical expenses, temporary disability, and permanent disability awards among others.
This insurance policy provides injured employees with medical and salary replacement benefits that stemmed from work-related injuries. 
Workers' Compensation Injuries at Amazon Warehouse or Fulfillment Centers
Working in any type of warehouse is a demanding job and workers are always prone to injuries, illnesses, and accidents. Likewise, it might be even more dangerous than others because of the load and pressure of the rush put on the workers.
In fulfillment centers such as Amazon, workers must receive and process arriving stock and materials, fetch and fill orders, encase and ship orders, organize, and restock. Workers usually need to do repetitive tasks such as lifting and moving items from one place to another. Additionally, their speed is often measured, making them ignore the injuries or illnesses they may develop just not to miss their unacceptable quota or get fired. 
Most Common Injuries that Warehouse Employees Suffer
Warehouse jobs are exhausting and give employees little or no time at all to take a rest, not to mention the repetitive tasks from lifting boxes to wrapping them up for shipment. Warehouse employees usually suffer injuries including:
Musculoskeletal disorders such as carpal tunnel syndrome

Strains

Sprains 

Slip

Fall

Trips

Broken bones

Head Injury

Spinal cord injury

Cuts
What Should You Do After Suffering Injuries While Working in an Amazon Warehouse?  
If you get injuries while working in an Amazon warehouse, it's crucial that you seek medical attention right away. This will assure that you'll get the necessary treatment, and document your injury. Moreover, you need to report the accident to your supervisor and file a workers' compensation claim.
You will have to complete the workers' compensation claim form that your supervisor needs to forward to the company's insurance company. The insurance company, in turn, will investigate your claim and identify whether you're eligible or not for the benefits. If you're in luck, they will approve your claim so you can receive benefits to help cover the costs of your medical treatment and lost wages.
To become eligible for workers' compensation you must incur work-related injuries. It means that the injuries occurred while you were doing your task(s) as an Amazon warehouse worker. Speak with our knowledgeable Los Angeles workers' compensation attorney to guide you through the process of filing a claim. It will also ensure that you'll file your claim as soon as possible and within the specified period.
Challenges You May Face When Pursuing Workers' Compensation Claim
When you get hurt and suffer injuries while doing your job, you may be eligible to file for workers' compensation. California requires every employer and company to carry this type of business insurance to help employees when an accident occurs to help with their medical bills and lost salaries. 
As an injured worker, you must receive compensation that resulted in harm, injuries, or an illness that developed caused by repetitive tasks. However, most insurance companies are unscrupulous to injured workers who file a claim to receive benefits, making the filing complicated and difficult. 
Big insurance companies like what Amazon has, may undervalue the actual affliction caused by the injury or even decline a claim completely. Speak with our ODG Law's expert workers' compensation attorneys to know what are your legal rights as a worker and allow us to protect them.
Los Angeles Attorneys for Injured Amazon Employees
It's not a secret that injured Amazon employees or workers generally have a hard time claiming the workers' compensation benefits they deserve. If you're working in Amazon or any warehouse or fulfillment center, it's highly suggested that you seek legal help from our experienced Los Angeles workers' compensation attorney of ODG Law.
We'll help you fight for the compensation that you deserve. If necessary, we'll help coordinate your medical reports and collect documents and information. Besides, our well-versed Los Angeles workers will present you in court when needed. 
Don't hesitate to speak with one of our compassionate, efficient,  and well-equipped Los Angeles workers' compensation attorneys for help. Call (818) 975-3080 and schedule a FREE consultation at no cost.
At ODG Law, it's our mission to help you secure maximum benefits, aside from educating you to come up with decisive decisions. Keep in touch with us. We work on a contingency fee basis.